PREPARING THE WAY OF THE LORD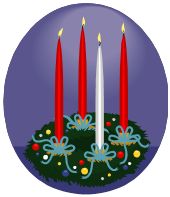 Sr. Bridget Puzon, O.S.U.
So many things that Jesus told us about his ways—the way of the Lord! His way is compassionate, healing, straight-talking, decisive, gentle, and above all—and at the same time—loving for all those who turn to him.
So, we who can't juggle all those things at once have choices to make this Advent. Which of those ways will we focus on to prepare ourselves for this year's celebration of Christmas?
On the second Sunday of Advent, the reading from Isaiah (11:1-10) envisioned the world when God's reign prevails: "Then the wolf shall be a guest of the lamb, and the leopard shall lie down with the kid; the calf and the lion shall browse together, with a little child to lead them. . ." A new world order.
Or again how often Jesus says, "The reign of God is like . . ." A wedding feast, welcoming all. A forgiving father. Joy at a lost coin found, or the discovery of a pearl of great price. And all those examples summed up in the Sermon on the Mount in Matthew 5: Blessed are peacemakers, the merciful, the poor in spirit, those who hunger for justice, the pure of heart.
Rejoice, St. Paul advises: the Lord is near.
We prepare for the feast that Christmas makes present to us now, centuries later, by letting those habits and attitudes develop amid the color and stress of the pre-Christmas season.
Growing a new habit, attitude, manner, from among the models Jesus speaks about is possible: we don't have to continue doing the old, automatic way that doesn't fit his way.
Growing a new way is the gift we can make on Christmas day to welcome the reign of God that we, with our change of heart, have brought about.